I finally did it. I eliminated those steps down into the basement storage area to fetch three plastic shoe boxes filled with ribbons and rick-rack. I suspect there may be other ribbons lurking in cardboard boxes, left over from our move to this house back in 2005, but for now the bulk of my supply is located in my sewing studio, exactly where I need my ribbons to be. One day last year, when my husband and I browsed in a thrift store, he came home with a thimble rack that he bought for three dollars. "I know you don't collect thimbles," John told me, "but it seems like you could do something useful with this." Well, he was right, and I did. Notice in the photo below the beautiful "Wall Word" above my re-purposed thimble rack that Edi of Memories for Life Scrapbooks cut out for me from poplar with her laser engraving machine.
How I chose a thimble rack to hold 260 spools of trims was actually the result of a search for better storage solutions than clear plastic or cardboard boxes. I experimented with a pants hanger similar to the one found in a Creating Keepsakes blog post, but quickly abandoned that idea because ribbon spools stored on a clothes hanger, though they look nice, take up precious closet space that I don't have. Then I spotted a drawer system that Tangii of The Inking Spot of Crain Creations uses, and the light bulb turned on. In her post, My ribbon storage…, Tangii describes how she cut up white mat board into rectangles, wound ribbons onto them, and stored them in her ScrapNcubeâ"¢ drawers. I adapted this idea, wrapping ribbons around medium-weight chipboard, and stacked them vertically inside the cubbies of my thimble rack.
Tangii credits another blogger, Becca of Amazing Paper Grace, for her idea. I visited Becca's blog post, Amazing Ribbon Storage That I Absolutely Love, to see  how she organizes her ribbons, and discovered that she has plastic drawers similar to mine. This is how I will store my overflow ribbons. Notice how Becca color codes the outside of her drawers. Handy!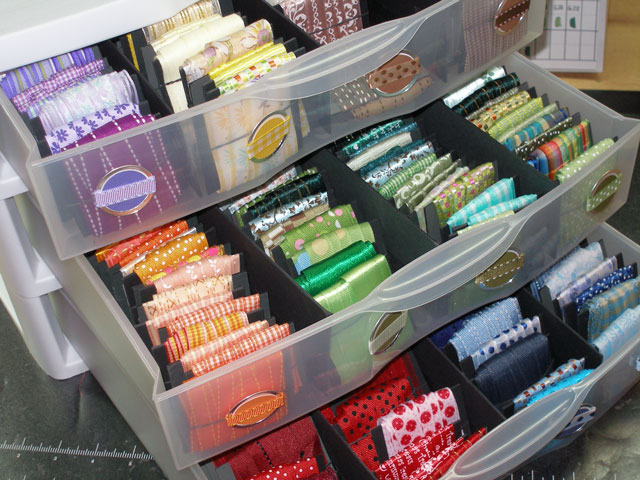 How you store your own ribbons likely depends on how many you have, and how much space is available for storage. I chose the system I did because I have a limited amount of space in a nursery-sized room. Winding trims onto cardboard "bobbins" compresses the space that is needed. Wouldn't these Ribbon Organizers sold by GinaPurseFrame on Etsy be perfect for some of your wound ribbons?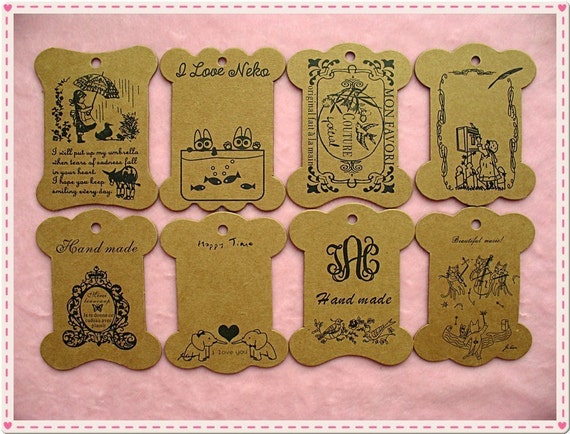 If you prefer to keep your ribbon on spools, however, there are many other clever solutions you can choose.  You can stack your spools vertically, for instance, inside empty CD holders, and stack the CD holders themselves. If you visit Organize your sewing room, you'll see soda straw dispensers filled with curled-up lengths of ribbon. Clever! Or you can purchase a vertical solution on Etsy, such as sheepydee's Ribbon Spool Holder.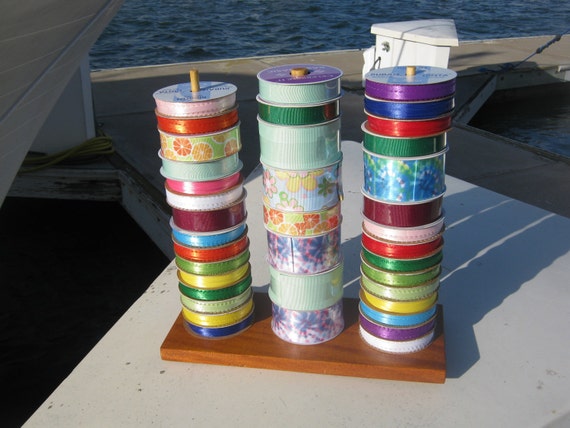 Another interesting vertical solution that is good not only for ribbon spools, but also for ink pads, is a cassette tape holder such as the one that All That Scrap upcycled. I'm sorry now that we donated the one we used to have!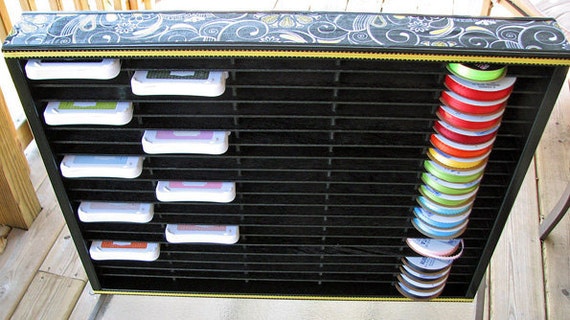 If you are short on wall space, use a closet or cupboard door, or the side of a piece of furniture. In her post, Ribbon Storage + Scissors Storage, April of A Joy 2 Scrap describes how she uses 4-inch-wide PVC pipe to store her ribbons. Her husband cut out one-quarter of the circular shape with his table saw, drilled two holes on either end for hangers, and inserted a U-bolt on either end of the curved "shelf" to keep the spools from sliding off. When April takes her ribbons with her to a scrapping event, she just slips the spool holder off the hooks from which it hangs, and takes her storage system with her.
If you have more ribbon scraps than you do ribbon spools, you'll want to take a look at the product review that Lolly of LollyChops' wrote about the Ribbon Ring. Lolly describes how she unpacked all of her ribbons and sorted them by color, then cut off yard lengths of each to store on the Ribbon Ring organizer. "The colors really pop when they are out from the auspices of those dirty protective covers and ribbon spools," Lolly says. The Ribbon Ring starter set comes with 30 ribbon tags on which you can hang 1-3 ribbons, as well as a ring. I wondered, after I saw this product, if you couldn't punch holes in card stock for ribbons, and then hang the cards from an organizer ring commonly found in fabric stores, but I have to admit that having pre-made tags for this purpose is probably more durable and convenient.
A small collection of ribbon spools will likely fit in a basket you can find in any discount store. To keep the ribbons from unwinding, thread the ends through the holes in the basket. Halsey of Spunky Junky describes this solution in her post, Tuesday Tutorial $5 dollar ribbon organizer. She stacks the spools in her basket on their ends, and threads a dowel through the centers to keep them in place. "Now the spools can't roll and I don't have to worry about a tangled mess," says Halsey.
If you have boxes of ribbon you wish to stack on a shelf, or simply want to highlight your ribbon collection in a pretty way, you can make your own ribbon box. Mandy of Little Birdie Secrets has an easy-to-follow tutorial, ribbon organization and storage ideas, that tells you exactly how to do so.
You may prefer to make your own ribbon spool rack out of wood (or have a friend or relative do the work instead). If you don't want to generate your own pattern, The Wood Shoppe on Etsy provides an economical PDF pattern for $5 that will get you started.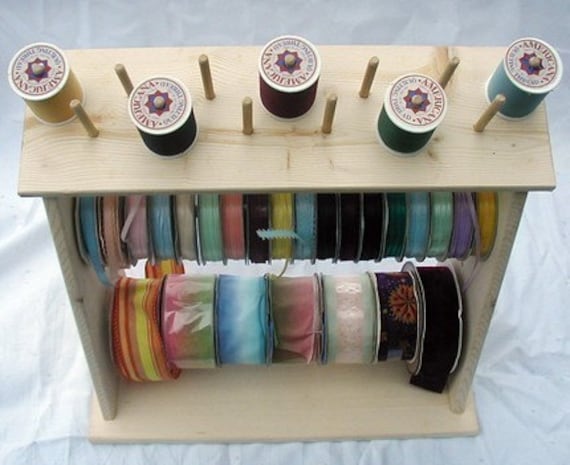 If you're in a hurry to get all of your ribbons organized, but don't have woodworking skills, you can take advantage of pre-made wooden racks found on Etsy. In 13 inches of space, this 4-rack spool holder can hold up to 75 spools. The seller, Dee's Necklace Holders, sells them in sets of three, which can hold up to 225 spools altogether. Keep one, and give away the other two as gifts, or use all three for yourself.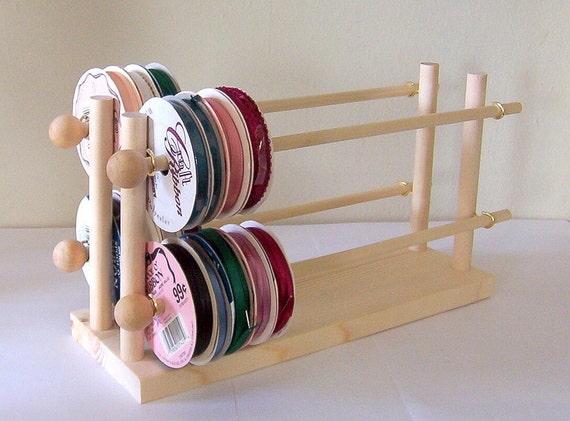 Custom Wood Concepts on Etsy sells a great tabletop Ribbon Rack that holds 100 spools. If you have a spare end table or night stand, this solution would be perfect for you. The seller offers six other styles of racks, so if this style doesn't work for you, likely another one will, such as his 125-spool rack holder that stands on the floor.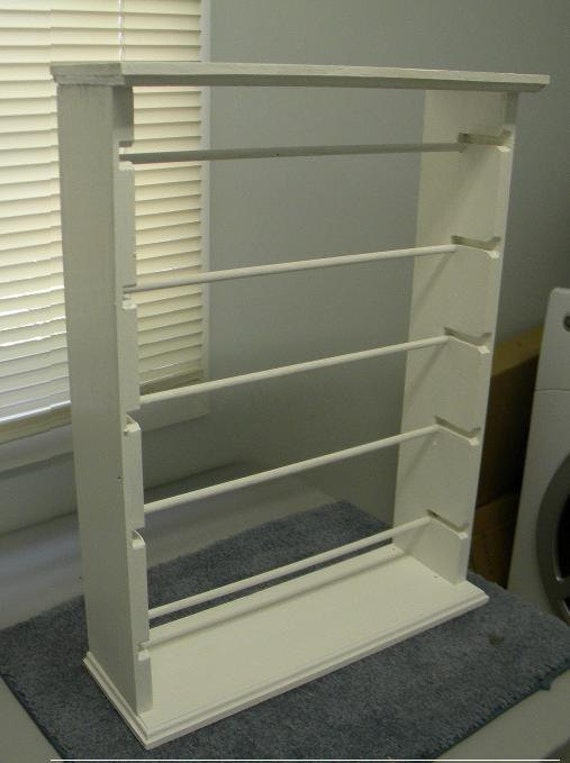 As I searched for different ribbon storage solutions on the Internet, I was amazed by the diversity of ideas. What can you add to this list?
© 2012 Judy Nolan. All rights reserved.