As I mentioned in a previous post, I am starting to offer crochet patterns in my Etsy shop, JN Originals. There are others on Etsy, however, who have been selling their crochet patterns for quite a while. I'd like to highlight some of my favorite designs, as well as share some crochet sites that offer both free and/or purchasable patterns.
One word of caution before you decide to sell finished items from anyone's pattern—check the designer's rules before you do so. Some designers allow you to make items for personal use only or for charitable purposes, others restrict you to local craft shows and bazaars, and other designers give you carte blanche to make as many handmade items as you wish and sell them—as long as you credit the designer. Many other designs don't specify at all whether you can sell finished items from the pattern. I urge you to err on the side of caution; respect intellectual property rights and check with the designer. If you're unable to reach that person, assume you may make finished items for personal use only.
With that cautionary advice aside, let's look at some photos. If you wish to purchase these patterns, just click on the photo and you'll be taken directly to that item in the designer's shop.
Martha of Long Beach Designs in Stratford, Connecticut specializes in crochet and knit designs that include slouchy beanie patterns, earflap beanie patterns, scarves, cowls, neck warmers, fingerless mittens, infant cocoons, and more. I particular like her slouchy hat patterns. Her shop, she says, is "a natural evolvement for my tendency to create one of a kind items from my ideas, and then move on to incubating another design from another idea." Martha allows you to sell finished items from her patterns.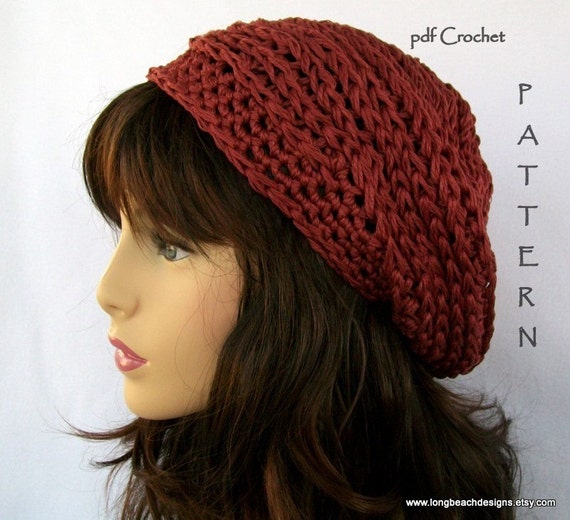 Bernadette of Groningen in the Netherlands sells crochet and knitting designs in her Etsy shop, BernioliesDesigns. Her design background is not typical of crocheters and knitters. "After working for 14 years with a circus as a costume designer, I decided to focus 100% on my knitting and crocheting," she says. I fell in love with "Lauren," an absolutely stunning shawl that is perfect for cool autumn days, or for curling up in a chair to read a book. The finished shawl may be crocheted for personal use only.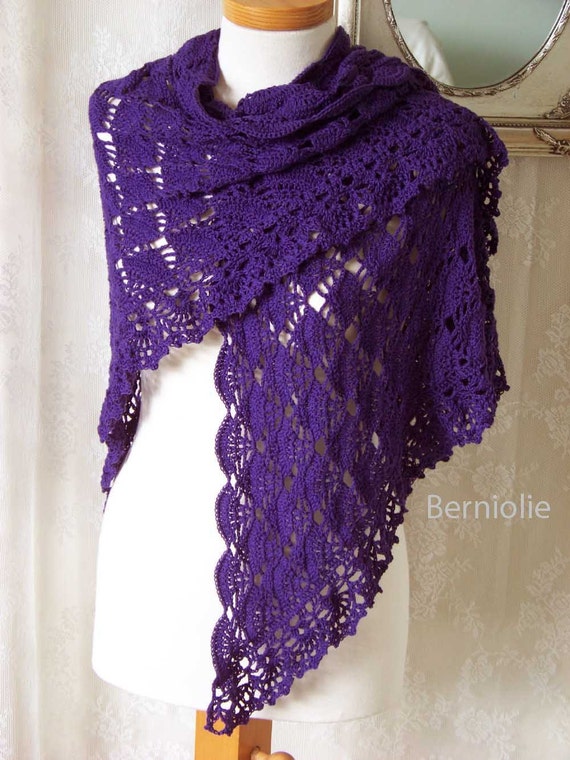 Candace of Candace's Closet in West Warwick, Rhode Island sells a pattern for crocheted boot cuffs, which are very popular right now. "Since we get to experience all the seasons in all their glory," she says, "I love to create accessories for all kinds of weather." Candace does not specify whether you can sell boot cuffs made from her pattern, but I'm sure she will answer an inquiry.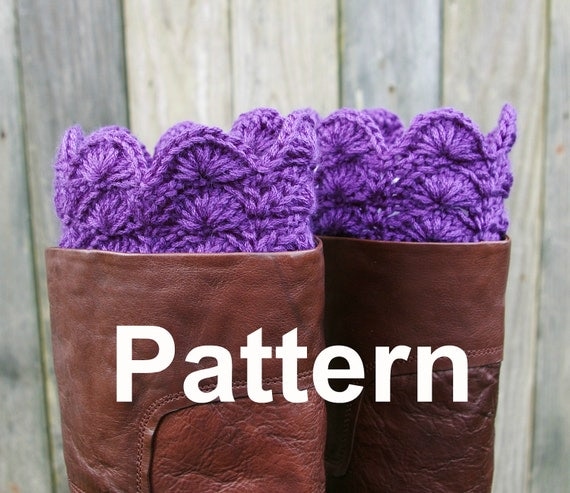 The fringed infinity scarf below is a perfect accessory to dress up a T-shirt. Designed by Linda Skuja of Eleven Handmade in Riga, Latvia, this pattern can be worked up and the finished item sold, as long as credit is given to the designer. Linda has been recognized for her work in recent years. "I have collaborated with fashion designer Leila Shams (of New York) and created 5 crochet pieces for her fall 2012 collection that was shown on the runway of New York Fashion Week," she says.
The pattern for the bib necklace below is unusual in that you don't actually need crochet experience to make it. The design utilizes purchased satin, organza or crochet flowers (available on Etsy), or you can crochet your own flowers if  you know how to crochet. You can sell the finished item, according to the Santa Clara, California designer, Julie of Beachet Crochet Designs. Her designer label, Beachet, is actually a made-up word based on the French word boucher, or "butcher." That is basically what Julie does when she creates her designs, she explains. "I take yarn and crochet my designs, then I take old vintage necklaces I purchase from flea markets, second hand stores, yard sales, eBay, and I break them up and coordinate the different beads and colors to go with my designs."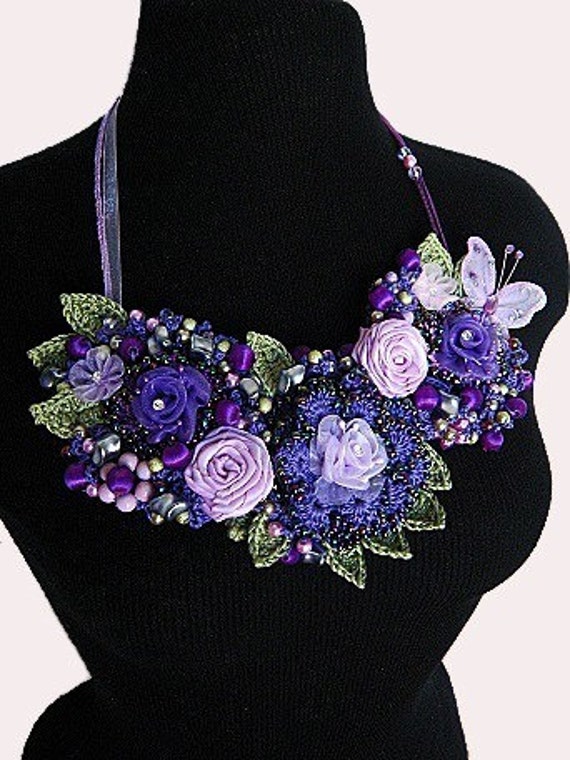 If you are looking for free patterns, you can visit the following Web sites, which offer a great variety of designs.
Many of the major yarn manufacturers also offer free patterns:
Finally, you can visit these sites (as well as Etsy) to purchase crochet and knitting patterns:
© 2012 Judy Nolan. All rights reserved.