Congratulations to the two winners of the book giveaway I announced last week. After I posted details about the giveaway, I was contacted by a representative of the publisher, FW Media, who offered to kick in a second copy. Pretty cool, huh?! The two winners of Lisa Lam's book, A bag for all reasons, are Spenser Hardin (Comment #9) and Margaret Freije (Comment #13). Congratulations, ladies!
Spenser is co-owner of an English cottage-style tea room in southern Iowa called Miss Spenser's Special-Teas. She and her mother host monthly themed tea events that run the gamut from Alice in Wonderland to swash-buckling pirates. Spenser designs her own outfits and writes her own scripts. She and her mother, Donna, also own and operate Longview Farms Bed and Breakfast, a charming country farmhouse getaway in the middle of Iowa's southern prairies and rolling hills. Concerning Lisa Lam's book, Spenser writes, "What a fun looking book!! I love really all kinds of bags . . . but my favorites are probably cute tote bags—to carry books and other things in." You can follow Spenser at Miss Spenser's Blog.
Margaret is the owner of Splendid Little Stars, an Etsy shop which features hand-dyed clothing and accessories. Inspired by her daughter's first grade teacher, Margaret began studying the process of dyeing. Today she has about 20 years of experience in hand-dyeing and painting clothing that is truly one-of-a-kind. "Learning something new while creating is a constant process," she says. "Discovery is a joy (mostly)!" She is inspired by nature, and loves working with her hands. "A generous giveaway," Margaret writes about A bag for all reasons. "I most often carry a wristlet or a small tote bag if I want to bring my camera, in addition to other items." You can follow Margaret on her blog, Splendid Little Stars (whose title matches her shop name).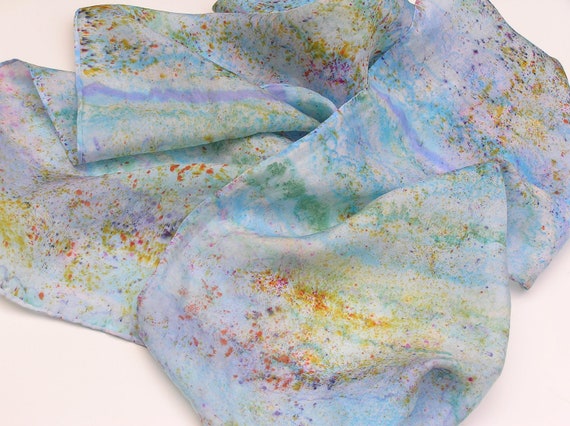 Congratulations to both of these creative ladies! I hope they'll share with us what they create from Lisa Lam's book, A bag for all reasons. Thanks also to FW Media for supplying the books for this giveaway.
© 2012 Judy Nolan. All rights reserved.