In a previous post, I wrote about the cutting tools that paper crafters tend to collect. For me, scissors take up a lot of space, requiring multiple storage solutions. My own solutions include a mug rack, a necklace stand, a plastic flower pot from a floral shop, and a wood-bottomed bag I purchased at a local craft fair.
There are commercial scissor racks that you can purchase from an artist or school supply warehouse, but why not make your own, customizing it for both the quantity and types of scissors you have? That's what April of A Joy 2 Scrap did when she designed her own compact scissor stand. She took 2 squares of wood, drilled holes in one of them for 15 pairs of scissors, and elevated one square above the other with four dowels. She points out that the bottom piece of wood lends stability to her stand, as well as prevents the scissor tips from marring any flat surfaces.
Sometimes simplicity is the best scissor storage solution. "I store my scissors in a plastic cup," says Rose of The Beadings and Buttons of Randomcreative.  I have done the same when I move a paper crafting project from one room to another and want to contain my mess!
"I use a utensil caddy from Pampered Chef for my scissors," says Edi of Memories for Life Scrapbooks. "I hate to cook, but they still make great gadgets." Edi's utensil caddy spins, making retrieval of the tool she needs quick and easy.
Hannah of Rubies and Pearls has a scissor storage system that was inspired by candle centerpieces she created for her own wedding. Instead of inserting candles in pearl-filled glass vases, Hannah inserted her craft scissors. She finished off the look with a ribbon—pretty and clever!
Wedding centerpiece-inspired solution by Hannah of Rubies and Pearls
This past fall, school teacher Janet Malone from Nashville, Tennessee moved to a new art room that had less space than her previous classroom. She had to find creative storage solutions for many different items, including scissors. She spotted a photo of knife storage bars from Ikea on Pinterest, which sparked an idea. Instead of buying the knife racks (which wasn't possible because Nashville does not have an Ikea store), Janet purchased magnetized tool racks from Home Depot for $12, and attached them to a storage cabinet that placed the scissors high enough that kindergartners cannot easily reach them, yet still accessible when needed in a hurry. What a great idea!
Sometimes you simply want to be able to quickly locate a single pair of scissors you use frequently. A good way to do so (and to keep the scissors from scratching wood surfaces) is to upcycle a potholder, which is what Jan of Grandma Jan's Corner did with the cute scissor holder shown below.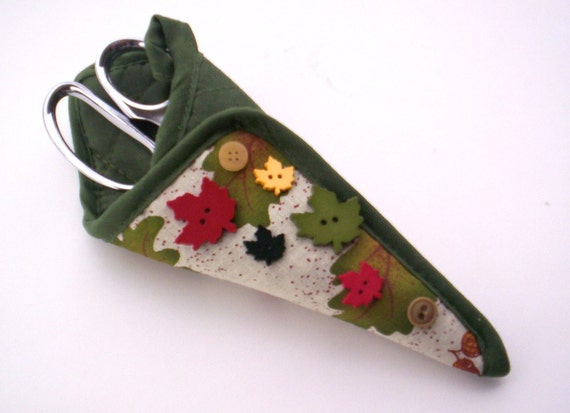 When Marissa of Skooks' Playground reorganized her sewing room, she was inspired by reading about others' sewing spaces. She found a metal home decor wall rack at Hobby Lobby on clearance for two dollars, spray painted it to fit the rest of her room, and hung up her "ridiculously large scissors" on the hooks. I think I have walked past items like this a million times, and never thought about using them this way!
Have you ever thought about using a toothbrush holder for your scissors? That's the surprising idea that Dee of La-Dee-Da Creations came up with when she transformed an empty room in her home into a craft room. She found her toothbrush holder at Walmart, along with a matching waste basket.
Patti of Patti's Paper Play transferred her edge-cutting scissors from a shoe box to cup hooks attached to the bottom of a wood shelf.  "I can easily grab the pair I want and find that I use them more now that they are out in the open," Patti says. For a room with limited space, this is a great (and visible) solution.
There are probably other scissor storage ideas out there, among them hanging scissors from S-hooks on a pegboard, but I'd love to hear your additional ideas. Thanks to all of the individuals who contributed their photos to this post.
© 2012 Judy Nolan. All rights reserved. Permission granted by photo owners for inclusion in this post.